The year 2020 is a significant one for VMI, the world leader in automated tire building technology, as this marks the 75th anniversary of the company's foundation. It should have been a year of celebration, but no one anticipated the crisis that would upset so many plans and require urgent action to face the economic after-effects of the COVID-19 pandemic.
VMI has one advantage: Founded in 1945 right after WWII, VMI started its life helping to rebuild after the greatest crisis of the 20th century. This is one business that does not panic in difficult times.
Over its 75 year history, the company has transformed its product range, scope of activities and international presence. In one way, however, nothing has changed. The focus was always on innovation linked to engineering excellence, backed by high quality service. That is still true, although these days, service is becoming more important than ever.
The changing face of customer service
The definition of customer service in the tire industry has been changing a lot in recent years. Its scope is expanding and the concept now embraces many more disciplines, with a greater strategic significance than ever before.
No company has moved faster than VMI in building a more ambitious vision for service in our industry. In this article, we hear from both Erick Lapre, VMI's newly appointed global vice president for servie, and Ashok Bisoen, general manager of VMI Americas, to understand more about the fresh thinking VMI is bringing to the service market.

Ashok Bisoen defines it like this: "Customer service for us is now all about customer success. We have moved beyond beinga company that builds, sells and installs high quality machines alone. Our task now is also to work as closely as we can with customers, ensuring that our equipment is always working at its best, and is always making the strongest possible contribution to our customers' business goals."
This means altering and, in many cases, expanding the core definition of service beyond its traditional scope. It cannot be limited only to maintenance, spares and upgrades, as in the past. That is because the whole manufacturing industry has developed a more nuanced and ambitious understanding of what service really is, and what it brings in terms of competitive advantage.
The holistic approach to service
In a manufacturing industry that is moving fast to adopt concepts such as asset performance management (APM), for example, customers are looking at their production assets holistically, asking about condition, settings, component upgrades and how to dynamically manage production quality. For VMI, the goal is to work in partnership with customers to optimize their processes and asset performance, and therefore to help them be as competitive as possible in this very tough marketplace.
Bisoen, former customer services lead, is now VMI's business leader in North America, and this reflects a greater emphasis on service following an operational reorganization that took place in late 2019. So what are the big developments in service right now?
First, the growth in retrofitting now represents a high proportion of VMI's service business in North America. When VMI introduces new and improved functionalities or modules, they are also made available for existing machines as retrofits. These retrofits are all about protecting customers' investments and extending the machine's life cycle by making the latest technology available where this offers advantages. The aim is to keep machines at best practice status always, so customer investments are maximized all through machine life.
Second, long-term service relationships enable VMI to take a more proactive role in optimizing output, working more closely with customer engineers, especially in dedicated reliability departments, fine-tuning performance to deliver the right output at all times. A big benefit here is the growth in proactive maintenance. Unplanned downtime is seen as being more and more unacceptable these days, and a good service relationship is the best way to avoid that.
Third, there is a stronger focus on total cost of ownership (TCO) as a key differentiator. "The upfront asset cost," Bisoen comments, "is perhaps less important now than the long term profit generating potential of the equipment we sell." These days, it is all about the total package, including service support, and the bottom line benefits to the company throughout the period of operations.
Of course, the traditional aspects of service remain vitally important: fast response, ready availability of parts, together with VMI's willingness to fix problems at its own risk. But the evolutionary change in North America is the growing focus on the cost-risk equation. Reducing risk, raising profitability and partnering for long term success are the keys to successful service delivery today.

Service as a driver for change
Erik Lapré sees even higher levels of ambition in the market "Businesses are really engaging with the concept of our machines as producers; not just of tires, but also of meaningful data," he says. "They want to maximize the potential of this data to deliver competitive advantage for their businesses." VMI's tire building machines bring together a range of technologies, from digital controls to vision systems, from sophisticated handling through to diagnostic data. There are now growing opportunities to optimize performance by applying enhancements derived from data analytics.
"These days," Lapré tells us, "We can help our customers to optimize production, even while working from a distance; while collaboration through virtual teaming, enabled by new technologies like remote vision aids such as smart glasses, makes it possible to give hands-on support without being on site."
These new options continue to add value to the service relationship, making service more relevant to customer operations. The starting point, as ever, is the customer demand, based on their specific operational priorities.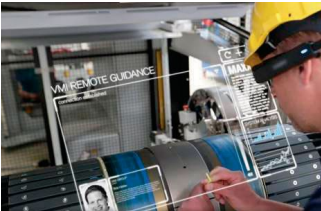 Service plans tailored to customer needs
A VMI tire building machine is a flexible and responsive manufacturing system. Customers will specify their own priorities, which could range from rapid turnaround between short runs of many different varieties of tire, through to maximized production uptime for a single tire type over an extended period. They will require a service relationship that supports their priorities while having early access to new technology where it makes sense. VMI's service strategy is designed to ensure that customers' investment in production machines is always optimized across the lifecycle of the installation with maximum performance under all conditions.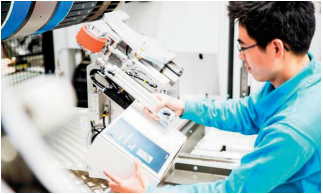 And some of these conditions will be harsh indeed. As Lapré points out: "Even when the COVID-19 crisis is over, life will be tough and the winners will be those companies able to optimize every aspect of their operations."
What exactly can companies do to optimize production and gain a competitive edge? Options include becoming more agile and responsive, so our customers can deliver what the market needs, where and when needed, at an excellent combination of keen pricing and high quality. It also means reducing wastage of everything from tire scrap to energy, achieved by making all aspects of core processes more efficient.
We expect the most successful companies to become more expert at providing metadata for every individual tire to give proof of quality and compliance, while achieving all of this by a more innovative approach to collecting and using data, using analytics to drive improvements. To stay successful, companies will need to do this while continuing to evaluate constantly how new technology can deliver benefits to the business. The next year or two might see a rapid move forward in the use of data for managing processes better and improving product cost and quality, because this will be central to staying ahead in a difficult market.
Both Bisoen and Lapré agree that big changes in service relationships are inevitable. This is no longer about fast response in order to fix problems and attack downtime, but about close partnership to optimize performance and avoid problems in the first place. "As the tire production processes become more closely integrated and automated," Lapré summarizes, "it becomes more necessary to see everything we do at VMI (design, develop, manufacture, deliver, install, enhance, optimize and support) as a continuum; a single, integrated service focused on our customers' success."
There will always be a need for engineers to visit the factory floor and fix things, for sure, but the emphasis now is on a different kind of service. Proactive, not reactive, diagnostic and enabled by data, focused on agility, TCO and competitive performance. In the post-COVID-19 market, the companies with the most creative approach to service are likely to be the winners.