Paris – Michelin has claimed a 'world first' with the rollout of a new aircraft radial, which is said to be 10-20% lighter than previous generations of such tires.
Launched at the recent Paris Air Show, the Air X Sky Light commercial aviation tire also offers 'better landings-per-tread (LPT) performance' than its predecessors.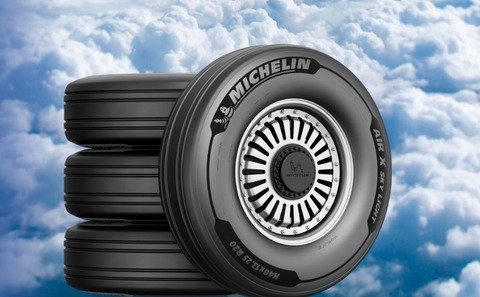 Lifespan can be 15 to 20% longer, said Michelin, noting that the new tire features "major breakthroughs" in terms of architecture, materials, and manufacturing processes.
Advances, it said, include a special crown architecture and optimised footprint as well as 'ultra-resistant' casing materials incorporating hybrid cables and fabrics,
Michelin has also employed 'sustainable' materials in the tires, which are being manufactured at its factory at Bourges, in central France, added its 21 June announcement
On an industrial level, "innovative manufacturing processes have been developed within the factory" continued Michelin – without providing further details.
Michelin said the tire meets the air transport decarbonisation targets by reducing the overall weight of aircrafts.
For instance, the weight savings on a narrow-body aircraft, such as an Airbus A320 or Boeing 737, could be 75kg on the main gear.
On wide-body aircraft, such as an Airbus A350 or Boeing 777, the savings could reach up to 250kg on the main gear, according to Michelin.
For a fleet of 40 long-haul aircraft, it said, the lighter-weight tires could save €820,000 in jet fuel costs per year and reduce CO2 emissions by 3,400 tonnes.
The first dimension of the tire has been developed to equip the future Dassault Aviation's Falcon 10X, with test flights planned for the coming months.
Michelin said the next tire dimensions will be defined based on the priorities of airlines and aircraft manufacturers.
From:ERJ
Qingdao Delphy Technology Development Co., Ltd is a professional equipment service company established by a senior marketing and R&D team in tire equipment industry. Leading by tire automation process equipment demand, the company is committed to the docking of intelligent equipment and technology, to achieve zero distance technique process and bring new profit growth points and continuous market competitiveness to customers.
Please feel free to let us know any of your needs. Our email address is info@delphygroup.com