Hanover, Germany – Continental AG has claimed an 'industry first' with the volume production of tires incorporating up to 65% renewable, recycled or ISCC Plus certified materials.
The UltraContact NXT is available in 19 sizes, all featuring "the highest" EU tire-label ratings for rolling resistance, wet braking and exterior noise, the tire maker said 14 June.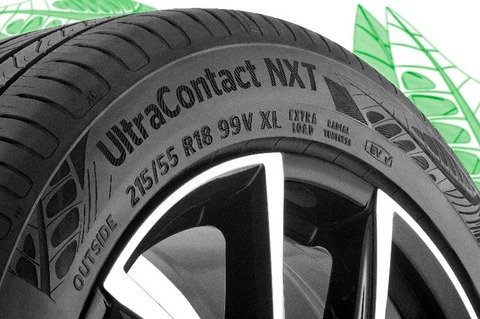 Renewable materials make up to 32% of the tire, while the proportion of recycled materials is up to 5%, depending on tire-size, the company explained.
The tire also employs up to 28% of ISCC Plus-certified materials, including synthetic rubber and carbon black made from bio-based, bio-circular and/or circular feedstock.
Renewable materials used in the tire include resins based on residual materials from the paper and wood industries.
Other ingredients include silicate from the ash of rice husks, an agricultural waste product processed into silica through a low-energy consuming process.
In addition, natural rubber remains a key 'renewable material' in the tires, contributing to "elevated level of strength and durability".
The recycled content of the tire comes from mechanically processed end-of-life tires, continued the manufacturer.
In addition, Continental is using recycled steel, as well as recycled polyester fibres from waste PET bottles in the reinforcement.
Currently produced at Continental's factory in Lousado, Portugal, the tire will be available from retailers in Europe, including the UK and Ireland, next month, according to the company.
"At Continental, safety, performance, and sustainability go hand-in-hand," said Ferdinand Hoyos, head of Continental's business area replacement tires, EMEA.
The new tire, said Hoyos, represents "a significant leap forward" in sustainability and underlines the German group's strong commitment to safety.
The UltraContact NXT is an extension of the UltraContact family, which was launched by Continental in 2022.
According to the company, the 19 sizes of the NXT tires will replace any existing respective dimensions of the UltraContact.
ERJ has requested more information about this development, including the manufacturing location(s) for the tires.
From : European Rubber Journal

Qingdao Delphy Technology Development Co., Ltd is a professional equipment service company established by a senior marketing and R&D team in tire equipment industry. Leading by tire automation process equipment demand, the company is committed to the docking of intelligent equipment and technology, to achieve zero distance technique process and bring new profit growth points and continuous market competitiveness to customers.
Please feel free to let us know any of your needs. Our email address is info@delphygroup.com